Landslide risk for 50 more Swansea Valley properties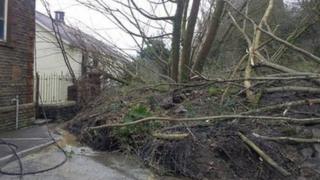 At least 50 more properties in the Swansea Valley are at a "high risk" of landslides than first thought.
Neath Port Talbot council carried out a detailed survey in Ystalyfera following a landslip which led to the evacuation of 10 homes on Cyfyng Road.
Surveyors have published a new risk map which suggests further properties are now in the most high-risk "red zone".
The council said residents will not be forced to leave, as there is no imminent risk of a landslide.
But it said that risk could increase due to heavy rainfall and individual surveys would be carried out on the 60 properties - and a chapel and chapel hall also included in the zone.
More than 200 people attended a public meeting on Thursday evening at Ysgol Gyfun Ystalyfera, during which the council tried to explain the new maps.
Leader of Neath Port Talbot council, Rob Jones, stressed the council had "no hidden agenda" and said there was "no financial incentives" behind the action it was taking.
But during the course of the meeting, a number of people expressed their frustration at what many described as a lack of action taken by the local authority to tackle flooding issues they have experienced at their properties for many years.
Local resident Dewi Hopkins said he believed sentiments expressed by council leaders on this occasion were the same as those given at similar meetings in years gone by. His views received applause from the room.
The council responded that it could not comment for councils in previous years - but that there was no simple solution to how they managed the water coming from the mountain.
It added that attempts were being made to manage the water with a potential drainage strategy.
But it said a lot of the drainage issues were on private land or were due to old mine workings and quarries which were not its responsibility.
It said all would be done to assist landowners in addressing problems but the council said it could not promise it would be able to solve the issue of water running down the mountainside.
The council has legal powers to serve enforcement notices, which owners have to follow to protect occupiers' safety.
They range from improvement notices - meaning owners might have to alter the property or take measures to make it safe - to an "emergency prohibition order" which requires occupiers to vacate immediately.
It is the latter notice which has been served to 10 properties on Cyfyng Road.
The council can take residents to court if they do not comply, where they could be issued with a fine if they are found guilty.
"Residents must however appreciate that they themselves also have a responsibility to protect their own health and safety," a spokeswoman said.