Llandovery sheep race cancelled after 60,000 sign petition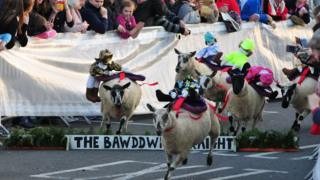 A festival has removed live sheep racing from its programme after 60,000 people signed a petition citing animal welfare concerns.
The race was due to take place at Llandovery Sheep Festival on 23-24 September.
Animal rights campaigner Samantha Francis said sheep are "timid animals" and racing was "very stressful".
Festival organisers confirmed that "no real live sheep" will be used in this year's event.
They have instead organised a drovers derby, which will see teams race fake sheep on wheels through the town.
Llandovery Sheep Festival chairman Chris Olchawski said they made the decision to cancel live sheep racing as they were worried there might be "some sort of confrontation" from activists at what was "supposed to be a family fun day".
He said they had held sheep races in the three previous years and were "proud of their animal welfare record".
"The races were very popular. People came up with novelty names for the sheep and there was mock betting, but we understand that some people have a different point of view," added Mr Olchawski.
Mrs Francis, from Cambridgeshire, is a regular petitioner against sheep racing, and has been successful in stopping races near her home in Woodditton and in Moffat in Scotland.
Sheep race pulled from village fete
Campaigner seeks sheep race ewe turn
She said racing is "cruel and unnecessary humiliation" for sheep, and large crowds cheering and shouting at them is "extremely frightening and stressful".
"They are being abused for our entertainment."
Mrs Francis said, while she was against horse racing, you could argue that horses were "natural runners".
But sheep only ever run if they are "frightened for their lives", she claimed.
She praised the Llandovery Sheep Festival committee for its response.
"They have been wonderful. They totally took on board what I was saying," she said.
"They handled the situation with grace and I hope they get a good turnout for their event."
Mrs Francis said she will keep on petitioning against sheep racing, with her ultimate goal to bring about a complete ban.