Ystalyfera landslip residents 'could return' to street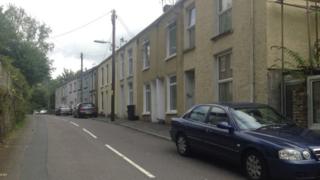 Homeowners who had to leave a street following a series of landslips might be able to return if surveys show the terrace is stable, a council has said.
About 20 people had to leave Cyfyng Road in Ystalyfera, Neath Port Talbot, last month and were served with notices requiring them to remove hazards.
These include repairing sewerage systems and separating the remainder of their gardens from the sheer drop.
If completed they could return, but only if houses can be safely supported.
A statement from Neath Port Talbot council said a number of the houses were no longer connected to the sewerage system, resulting in waste pouring down towards a nearby canal.
Others have lost the majority of their back gardens due to landslides, leaving little separation between the remaining land and a sheer drop.
The council said owners must now get specialist advice about how such hazards could affect the stability of the ground which supports the terraced row.
The statement added: "They [homeowners] were advised that if the hazards in each of the prohibition notices were addressed they could move back into the properties.
"However, if geotechnical reports indicate that the houses cannot be safely supported, then it was unlikely that they would be allowed to return and the council would need to consider the most appropriate course of action going forward in relation to this terrace.
"There is therefore the potential that the council will serve demolition orders on the properties to which the risk remains. The council is not at that position at the moment."
Most people who had to leave their homes have now been moved to alternative accommodation, with only one family still living in emergency housing.
The council has previously said the risk of a further landslip could affect 150 homes in the area and cost it millions of pounds if compulsory purchase and demolition is required.
A public meeting to provide a further update on the situation will be held at Ystalyfera School on 7 September.