Spot the snake: 6ft 'Piney' missing in Pembrokeshire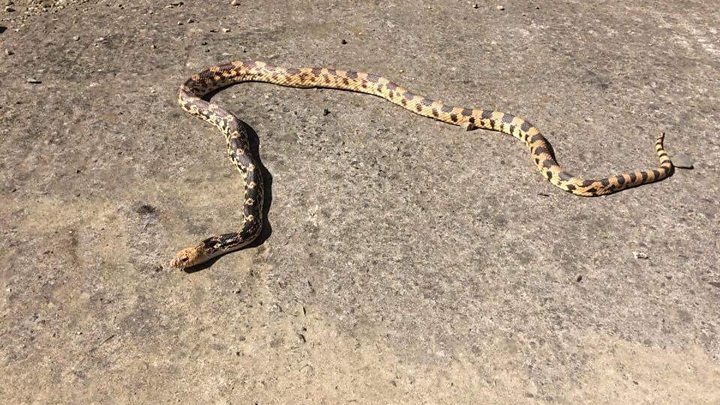 A 6ft (1.8m) pet snake has been spotted slithering across northern Pembrokeshire after going missing from its home about two months ago.
Piney, a non-venomous Louisiana pine snake, belongs to John and Josie Hiscock from Solva.
Since it went missing, it has been spotted four miles (6km) away on farms, the coast path and on the main road.
Mrs Hiscock said she could not believe how far Piney had travelled, adding "It's a lovely tame snake."
"My husband carries it around on his shoulders and takes it down to the school."
Mrs Hiscock said they really missed Piney - whose gender they were unsure of - and they were keen to have their pet home.
Piney was spotted by former Wales footballer turned pundit Ian Walsh on the coast path in Solva on 25 June.
It later turned up three miles away at St Davids Bunk Barns on 17 July.
It was spotted making its way across the yard by Rob and Christine Griffiths.
"I wasn't overly scared," said Mrs Griffiths, "but I didn't get too close as we weren't sure what it was".
"You could tell it was a pet as it was not threatened when I approached it, and it did not try to coil," said Mr Griffiths.
"It came towards me as if I had something for it, and it let me touch its tail."
Mr and Mrs Griffiths came close to capturing Piney. They got it into a container, but it managed to escape.
"I was driving the children back from school when I saw it cross the main road," said Mrs Griffiths. "I was worried it was going to get run over."
A day later, Piney paid a visit to Trecenny Farm in St Davids.
Pembrokeshire Coast National Park Authority said it had been notified of sightings of a non-venomous pet snake on the coast path.
A spokesman said members of the public are advised to avoid the snake, but it it is spotted to notify the authority on 01646 624800.