Swansea researcher's discovery to help stop steel rusting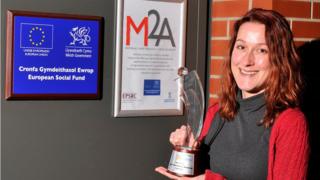 A Swansea University researcher has won a global competition by coming up with a new way to protect steel from rusting.
Dr Alex Harold used the water resistant properties of a common soil bacteria to make a protective metal coating.
She beat over 5,000 applicants to win the Tata Innovista Award.
Dr Harold said the idea had been "inspired by nature" and will provide a solution to the industrial problem of steel corrosion.
She added it was an "environmentally-friendly" alternative to other steel coatings, without any loss in performance.
She explained the cell surface of a common soil bacteria is not only water resistant, but it protects the organism from desiccation.
It is extracted and dissolved to create a solution that forms a "robust protein coating".
It is less than 10 nanometres thick and able to withstand boiling and freezing temperatures.