Company behind Port Talbot Magnet newspaper to close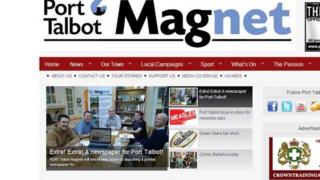 The company behind a community newspaper which printed its last edition in October is to close after receiving no offers to take it over.
The Port Talbot Magnet had published 11 issues over seven years.
"Just had our last Magnet board meeting and as no takers have come forward we have to shut the company. Thanks to all who supported us," the company tweeted.
It added that its social media would end this week and steps would be taken to archive content.
The newspaper was set up following the closure of the Port Talbot Guardian in 2009.
In October last year, editor Rachel Howells said the Magnet was willing to hand over the website and social media accounts to local people if anyone wanted to take it over.
She said the "band of volunteers" behind the paper could not continue producing it indefinitely "without earning a wage from it".