Rescue effort as teenage boy falls into Tiers Cross quarry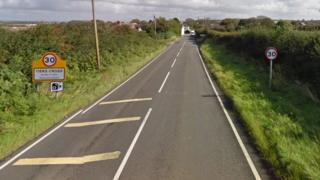 A rescue effort has been launched after a teenage boy fell into a quarry in Pembrokeshire.
Mid and West Wales Fire and Rescue Service was called at 20:55 BST on Sunday to reports of a boy in his mid-teens falling down a cliff.
It happened about four miles (6.4km) outside Haverfordwest in a village called Tiers Cross.
An ambulance has been sent to the scene but the extent of the boy's injuries are not known.