Lucasz Pawlowski sentenced for slashing throat in court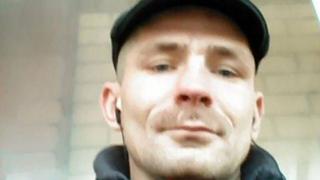 A man who slashed his throat while in the dock has been given a three-year community service order for carrying a knife and a separate sexual assault.
Lucasz Pawlowski, 33, from Pembroke Dock, had been in Haverfordwest Magistrates' Court for sentencing for a sex attack when he cut his throat after returning from the toilet.
Swansea Crown Court heard he had hidden the knife under a bin.
He had wrongly believed he would be sent to jail, the court was told.
After entering the dock at Haverfordwest Magistrates' Court in January, he had asked to be excused to use the toilet.
When he returned he started scratching at his neck with a three-inch kitchen knife which he had hidden under a bin in the toilet block.
Witnesses called on him to stop but the court heard he then started slashing at his neck which was said to be "bleeding profusely".
He was taken to Morriston hospital in Swansea. He was re-arrested the following day for possession of a bladed article.
'Unique circumstances'
Despite a serious breach of court security, prosecutor Robin Rouch said there was no suggestion the defendant was a threat to other people.
Defending Pawlowski, Jon Tarrant said his client had misunderstood the situation and "believed he was going into custody on the day he cut himself but that was not the case".
The court heard Pawlowski had already pleaded guilty to kissing a shop assistant on the lips while he was drunk in October 2016.
Pawlowski had grabbed the woman from behind, pulled her back towards him and kissed her, leaving her in a state of shock once he left.
In her victim impact statement, the shop assistant said she had been left feeling "dirty" and "vulnerable".
Pawlowski has been ordered to complete 80 hours of unpaid work, to complete a sex offender's programme and to register as a sex offender. He has also been given a restraining order.
Judge Paul Thomas said Pawlowski had already served the equivalent of a four-month jail term having spent the past two months in prison awaiting the hearing.
Mr Thomas said: "The circumstances here are certainly unique in my experience."
He told Pawlowski what he did to the woman in the shop was "very wrong" and that "drunkenness is no excuse".
Mr Thomas added: "Taking a knife into court is a matter that should be treated as a serious one. What you did caused a great deal of alarm and distress to others who witnessed it."
The judge said he expected there would be an inquiry into how the knife got into the dock and "people will get in trouble for it".