Deke Leonard: Rock band Man's guitarist dies, aged 72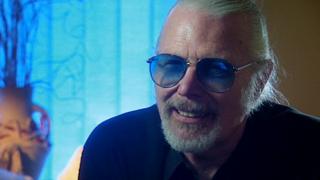 The guitarist for Welsh progressive rock band Man, Deke Leonard, has died at the age of 72.
Leonard, who was born Llanelli, Carmarthenshire, had four Top 40 UK albums with the band from the late 1960s.
He recently returned to his home town with his long-term partner Mary.
Friend Kevin Allen, who directed the film Twin Town, said: "Deke was a true gentlemen of acid rock and he had a fantastic presence on stage."
Man toured across Europe and America and could include Frank Zappa among their admirers.
As well as working as a radio and television panellist, Leonard was a regular guest at the Laugharne Festival.
Mr Allen added: "Deke was such an interesting, gentle and lovely person and he was part of a dying breed - he'll be really missed."
Another friend, Paul Durden, who co-authored Twin Town, said: "I am really very sorry for both Mary and his daughter Kate. It is very sad news.
"Deke was an old mate, who I had known since the '60s. He was an elder statesman of rock music and was a brilliant man himself."
Leonard's bandmate, Micky Jones, died in 2010 at the age of 63.