Twin Town sequel in the making says director Kevin Allen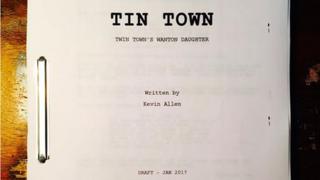 A long-awaited sequel to the cult Welsh film Twin Town is in the making, the director has said.
Kevin Allen posted a picture of the draft script to Tin Town on his Facebook page, saying: "Some of us had to work over Christmas and New Year."
He commented that filming was due to take place in June, potentially in the Llanelli area.
Twin Town actor Rhys Ifans said in December that there was a "juicy Welsh movie" in the pipeline.
Set in Swansea, Twin Town was released 20 years ago this April.
Mr Allen, who grew up in the city, previously said he wanted to revisit some of the film's characters.