Final demolition work starts at Swansea's Oceana nightclub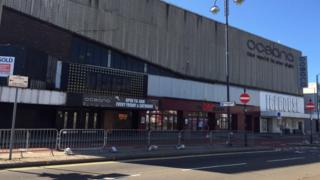 The former Oceana nightclub in Swansea city centre will soon disappear from view, as final demolition work gets under way.
Work to bring down the building on Kingsway started in October 2015 and was due to take six months.
But the outer structure of the building is still standing as there was more asbestos than first thought.
The council bought the site as part of plans to transform Kingsway into a business district.
All internal works at the building have now been completed, with scaffolding in place to support the exterior's demolition.
The work is scheduled to finish by the spring.