Moving police car smashed by Morriston motorcyclists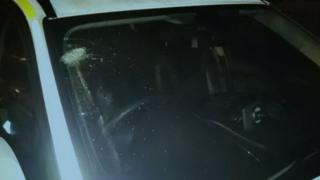 Police are looking for a second man after two men on a motorcycle smashed the windscreen of a moving police car in Swansea.
A South Wales Police roads policing officer was carrying out routine patrols on Lon Camlad, Morriston, when it happened at 01:40 GMT on Sunday.
Police said two men on a green Kawasaki motorcycle threw a "blunt heavy object" onto the car.
One man, 26, from the Swansea area, has been arrested.