Kidwelly Book Hunters hide copies in secret locations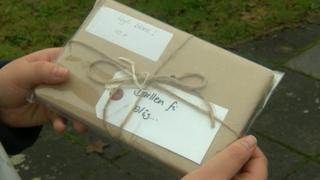 Books are being hidden across a Carmarthenshire town for people to pick up and read.
Kidwelly Book Hunters place them in various landmarks in the town and then post clues to their whereabouts on social media.
More than 80 books have been hidden in places like the school and castle.
Bethan Hindmarch, one of the three women behind Kidwelly Book Hunters, said they were inspired by a similar initiative in Norway.
She said that what started out as a bit of fun has turned into a very busy hobby, and they plan to add to the collection.
"Someone also mentioned on Facebook that when people were going through the Pokemon Go craze, that it would be nice for people to go out and find books instead," she said.
Welsh book publisher Y Lolfa has offered the group some books in the hope of attracting more people to read.
Fflur Arwel, of Y Lolfa, said: "What they're doing is very innovative. It's a creative way of getting people to pick up books and to read."
As Christmas approaches, the books are being covered in wrapping paper and some feature winter stories.