Swansea partygoers warned of water danger after nights out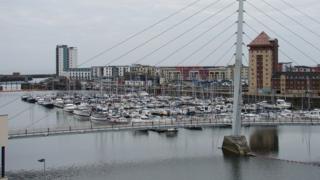 Festive partygoers in Swansea have been warned to stay away from water if they walk home from their night out.
A campaign is taking place in the city with leaflets handed out as the party season gets into full swing.
People have also been given advice of what to do if they see someone in the water.
Only earlier this year, the body of a 21-year-old reveller was found in the marina nearly three weeks after he went missing from a pre-Christmas night out.
Jordan Miers had last been seen on a footpath near the River Tawe.
It sparked fresh calls for railings to be installed around the marina and along river footpaths.
Royal Life Saving Society UK (RLSS) is behind the UK-wide "Don't Drink and Drown" campaign.
It has been backed by Swansea University, the University of Wales Trinity Saint David, South Wales Police, the Carmarthenshire Water Safety Partnership, Swansea council and Mid and West Wales Fire and Rescue Service (MWWFRS).
Last year, 20% of adults who drowned accidentally in the UK had alcohol in their bloodstream, and 67% of them were aged 18 to 21.
Di Steer, RLSS UK chief executive, said: "Alcohol can seriously impede your ability to survive in water.
"When walking home from a night out, avoid routes that are alongside water, particularly in the darkness, and always stay with and look out for your friends."
South Wales Police Ch Insp Chris Truscott, said: "With a city like Swansea, which has a significant population living in close proximity to large areas of water, it is important that everyone thinks about their surroundings - especially when consuming alcohol."
And Rob Tovey, from MWWFRS, urged people not to go into the water to try to rescue someone.
He added: "Call 999 or try talking or shouting to the casualty, and throwing a life ring if one is nearby. Most importantly, please keep visual contact with them until help arrives."