Yellow-browed warbler visits Pembrey Burrows reserve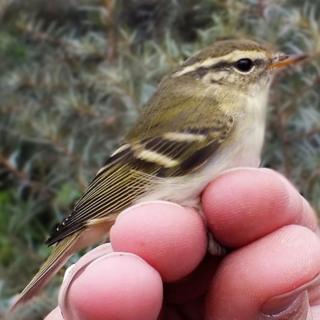 A bird that makes its home over 3,500 miles away in Siberia has made a rare visit to Carmarthenshire.
The yellow-browed warbler was tagged at Pembrey Burrows nature reserve, only the fifth ever recorded in the county.
The birds, known for their "strikingly loud" song, are more commonly found on the east coast of England with 600 recorded this autumn.
Easterly winds this autumn are said to be the reason behind the bird's visit to the reserve.
Yellow-browed warblers breed in Siberia and winter in south-east Asia.
Licensed bird ringer and volunteer ranger Paul Aubrey said the visitor was a highlight of an unexpectedly mild and bright autumnal period.