Brechfa Forest West: Early morning turbine delivery advised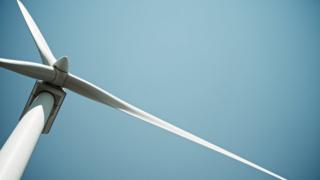 Wind turbine deliveries to construct a Carmarthenshire wind farm should not interfere with tourist travel during the summer, a council has heard.
Work on the Brechfa Forest West wind farm started earlier this month and is expected to last for 20 months.
Cllr Linda Evans said abnormally large loads were scheduled for delivery next August, and suggested deliveries should take place early in the morning.
The planning committee said it would advise travel starting before 06:00.
Speaking at the meeting, Ms Evans said: "The developer anticipates that the abnormally large loads, namely the turbines parts and blades, will be transported to the site near Gwyddgrug next August.
"That would be at the height of the holiday season, when a large number of tourists use the A485, which is the main north-south route through west Wales."
A total of 28 turbines, each 145m (475ft) high, will be erected on the site.
Ms Evans said it would cause less disruption, be safer and possibly quicker to make the deliveries very early in the day.
The committee agreed to issue an advisory notice to developers Innogy about the timings of movement, but added it had no power to impose a binding condtion.
Bethan Edwards from Innogy told BBC Wales the timings were dependent on the police, who provided an escort to the transports, but said the company would "ask the question".