Campaign launched against Llandeilo 32,000 chickens shed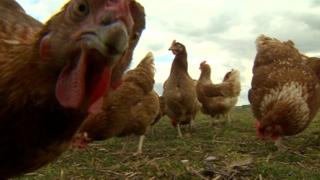 Concerns have been raised about plans to build a unit for 32,000 free range chickens in Carmarthenshire.
Terry Davies has submitted the plans for land at Glanmyddyfi, Pentrefelin, near Llandeilo.
His neighbour, Dr Rhys ap Delwyn Phillips has launched a campaign against the unit, saying he would become a "prisoner in his own home".
Mr Davies' planning agent said they were working to ensure "all concerns are addressed".
Dr Phillips said he was deeply concerned about ammonia levels at the site, with around five tonnes of chicken faeces produced each week.
More than 60 people have objected to the plans, including South and West Wales Wildlife Trust, which described the site as "inappropriate".
Mr Davies' planning agent, Jason Evans said: "We are currently continuing with ongoing discussions with the local planning authority to ensure that all concerns raised by members of the public are addressed".
The application is likely to be considered by the planning committee in the new year.