Lifejacket call after St David's Head fishermen deaths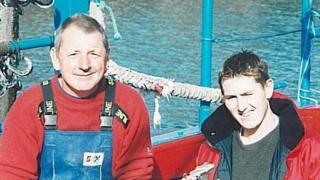 Lifejackets should be mandatory for all fishermen, a coroner has said, after two men died off the Pembrokeshire coast.
Gareth Willington, 59, from Carew, died after his boat The Harvester sank off St David's Head on 28 April. His son Daniel, 32, has never been found.
An inquiry found neither were wearing buoyancy aids when they went overboard.
Pembrokeshire coroner Mark Layton ruled Daniel's death was accidental while his father's was misadventure.
An investigation report said the men were throwing lobster pots into the sea before they died.
Gareth Willington was not wearing a lifejacket when he was found, a report by the Marine Accident Investigation Branch (MAIB) said.
The boat, which operated out of Milford Haven, smashed into rocks and broke up when it ran aground at about 14:25.
The report said no alarm was raised from the boat and the pair were not carrying a location device.
The investigation concluded Daniel Willington may have become entangled in ropes on the deck.
His father may have tried to help him before both men went into the water "in quick succession", it said.
Gareth Willington's widow Gail told the inquest she was not convinced the MAIB's report was a true reflection of what happened.
The coroner explained he was bound to accept the findings of the MAIB, even though they may only reflect a likely sequence of events.
Mrs Willington said she hoped lifejackets would be made compulsory.