Operator sought for planned Swansea arena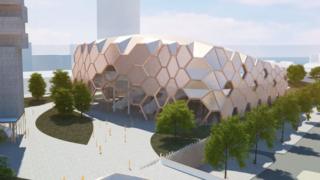 A planned indoor arena for Swansea has come a step closer as council bosses begin looking for a firm to run it.
The 3,500-seater auditorium is part of a £500m redevelopment project to transform the city centre.
Swansea council has advertised for an operator to run the facility on the former St David's shopping centre site.
Officials hope a new arena will attract touring live shows from hit programmes such as Strictly Come Dancing and X Factor.
Swansea council said survey work at the site had been carried out and an outline planning application was due to be submitted in March.
Other ideas for the former St David's complex include a café and restaurant quarter as well as a cinema.
The proposals were announced in January alongside a scheme to transform the Civic Centre site into apartments, an aquarium as well as an aquatic sciences research centre.
It is hoped the two projects would create 1,700 permanent jobs in the future.