St David's fishermen went overboard throwing lobster pots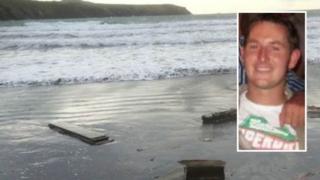 Two fishermen who went missing after a boat sank in Pembrokeshire went overboard while lobster pots were being thrown into the sea.
Gareth Willington, 59, from Carew, died after his boat The Harvester sank off St David's Head on 28 April.
The body of his son, Daniel, 32, has never been found.
Gareth Willington was not wearing a lifejacket when he was found, a report by the Marine Accident Investigation Branch said.
The investigation found the pair were lobster fishing near Ramsay Island when Daniel Willington may have become entangled in ropes on the deck.
His father may have tried to help him before both men went into the water "in quick succession", it said.
The boat, which operated out of Milford Haven, smashed into rocks and broke up when it ran aground at about 14:25 BST.
The report said no alarm was raised from the boat and the pair were not carrying a location device.
A resident whose house overlooked the bay spotted the boat and, after becoming concerned, called a friend who was a local fisherman. That fisherman left and headed towards the boat at East Sledge.
The report said several witnesses also made telephone calls reporting the incident to the coastguard and police.
Gareth Willington was rescued after being found three miles (5km) from the boat and taken to hospital, but was pronounced dead.
Five lifeboats, a helicopter and fishing boats were involved in the search for his son, which was scaled back the following day.
The Maritime and Coastguard Agency has already made a recommendation calling for the wearing of life jackets to be made compulsory.
That recommendation has been backed by Jerry Percy from near Haverfordwest, Pembrokeshire.
He has been involved in the fishing industry for over 40 years and knew both Gareth and Daniel Willington.
He described them as "fine, hardworking fishermen."
Mr Percy said: "Commercial fishing has the highest mortality rate of any industry," yet "the culture is, and always has been, not to wear a lifejacket".
"They can make a massive difference," he added.