Swansea's smoke-free school gates plan for city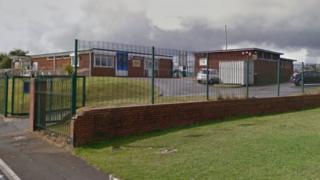 Smoking outside school gates in Swansea could be stubbed out under plans to develop smoke-free areas across the city.
The council has launched a "smoke-free gates" campaign which aims to discourage parents from lighting up.
Signs will be put up outside all primary schools, following posters urging no smoking at 77 play areas.
Public Health Wales and anti-smoking charities Ash Wales Cymru and Stop Smoking Wales have backed the move.
Mark Child, Swansea council's cabinet member for wellbeing, said he hoped it would set positive examples to children.
"Let's try and make sure none of the 10 children that start smoking in Wales each day, come from Swansea," he added.
The campaign comes after the council launched its first smoke-free beach at Caswell Bay, and Mr Child said feedback had been positive.
"Local businesses at the beach and beach-goers have noticed a difference, particularly with the reduction in the amount of cigarette litter left on the beach," he said.