Two Llanelli men are convicted of Polish man's murder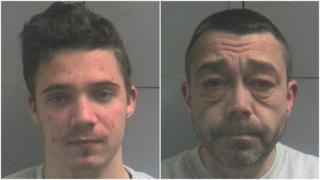 Two men from Llanelli have been convicted of murdering a Polish man.
Philip Hudson-Jones, 45, and Adrian Iwanowski, 21 were sentenced to life imprisonment for killing Mariusz Majewsky in November 2015.
Swansea Crown Court heard how the pair had burned Mr Majewsky's body after Hudson-Jones had beaten him to death with an axe.
The judge, Mr Justice Edis, described the murder as "barbaric".
The court heard how the pair sold amphetamine on behalf of Mr Majewsky.
His remains were found in a specially dug fire pit in the garden of Hudson-Jones' house in Felinfoel, Carmarthenshire.
'Shocking incident'
Hudson-Jones was told he would spend a minimum of 22 years in prison before being allowed to apply for parole.
Iwanowski, who asked his accomplice to murder Mr Majewsky, was told he would serve a minimum of 15 years.
Sophie Jones, 18, from Llanelli, was found guilty of assisting an offender by acting to conceal a body and will be sentenced on 24 November.
Adam Goodwin, 37, from Cross Hands and Jason Henderson, 44, from Foelgastell near Brechfa, were cleared of that offence.
Det Supt David Guiney, of Dyfed-Powys Police said: "This was a highly unusual and shocking incident for the community of Llanelli.
"I hope the family of Maruisz and the community which has felt the effects of this crime locally will feel some satisfaction from knowing these offenders have been convicted and will serve substantial prison sentences."