Chemical found at Swansea University was potentially explosive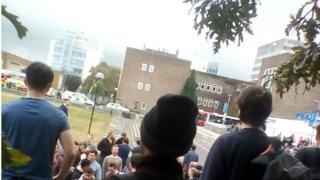 The discovery of potentially explosive chemical picric acid was the reason Swansea University's Singleton Park campus was evacuated last week.
The Royal Logistics Corps bomb disposal unit carried out an on-site controlled explosion after the hazardous chemical became "unstable".
Students at Gower College's Gorseinon campus in Swansea were also evacuated after a chemical alert on Monday.
The Health and Safety Executive is making inquiries about both incidents.
Gower College has not confirmed whether picric acid was the cause of their evacuation.
But the college did say at the time "the issue is similar to that which was reported at Swansea Uni last week".