'Locked up Amina Al-Jeffery's restrictions relaxed'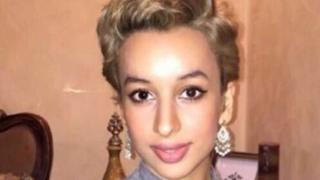 Restrictions on a Swansea woman who claims she is being kept against her will by her father in Saudi Arabia have been relaxed, a court has heard.
Amina Al-Jeffery, 22, has complained her father locked her up in his flat in Jeddah because she had "kissed a guy".
Mohammed Al-Jeffery denies the allegations and has claimed he is trying to protect her.
Mr Justice Holman said he was told the pair's relationship had improved and he hoped the case would be resolved soon.
In August, the High Court judge ruled Miss Al-Jeffery must be allowed to return to Britain by 11 September, but she has not come back.
Mr Justice Holman told a court in London on Monday he had heard Miss Al-Jeffery's relationship with her father was much improved.
He said she now had a mobile phone, computer and her passports - although her British passport has expired - and she was working as an intern.
The court heard Mr Al-Jeffrey's had agreed she could travel in and out of Saudi Arabia but required her to ask permission which, he said, would always be given.
The judge added Miss Al-Jeffery had repeatedly said she wanted legal proceedings to end as they were hindering the restoration of family relationships.
But he said he still remained concerned about the extent of her freedom.
Mr Justice Holman added: "It does seem to me still that the only satisfactory way finally to establish the true and uninfluenced wishes and feelings and instructions of Amina is for her to have a direct face-to-face meeting with her solicitor in Jeddah.
"Further, I would be very reluctant finally to dispose of these proceedings today without there being a clear signed document from the father dealing in detail with his position with regard to foreign travel."
Funding has now been arranged for Miss Al-Jeffery to meet her solicitor in Jeddah to try to resolve the matter.