Main Port Engineering: 69 jobs lost and 88 still at risk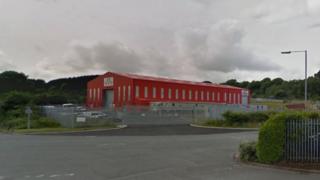 A total of 69 jobs have been lost and 88 more are at risk after a Pembrokeshire engineering firm went into administration.
Pembroke Dock-based Main Port Engineering, which had received a £650,000 Welsh Government grant, was served with a winding up petition last month.
It was due to face a High Court hearing on Monday, but that was postponed.
Administrator PwC said it was trying to save parts of the business.
The company provides services to the petrochemical industry but struggled to find customers after Milford Haven's Murco Oil Refinery closed.
Of the 157-strong workforce, 69 were made redundant immediately, with PwC saying efforts by directors to broaden the customer base "insufficient to maintain the company's profitability".
Main Port Engineering opened a new £1.8m manufacturing site in June 2015 with the aim of creating 30 jobs and safeguarding the then workforce of 155.
Administrator Roger Hale said: "The company has had a long tradition of employing people in the local area, and we are focused on doing all we can to preserve as many jobs as we can while we look to see whether any part of the business can be saved."