Main Port Engineering in Pembroke Dock goes into administration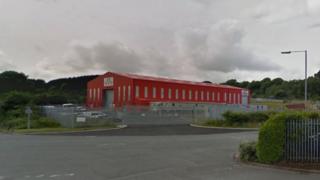 A Pembrokeshire engineering company which was given a £650,000 Welsh Government grant has gone into administration.
Main Port Engineering opened a new £1.8m manufacturing site in June 2015 with the aim of creating 30 jobs and safeguarding the then workforce of 155.
The Welsh Government said it was "keeping a close eye on the situation".
BBC Wales has tried to contact the company for comment.
The firm was served with a winding-up petition by HMRC tax officials last month.
Its answer phone message tells callers: "The company today has entered administration. The offices will reopen at 09:00 on Monday morning."
About a third of the company's turnover came from Murco oil refinery, which closed in November 2014.
Its new £1.8m manufacturing facility opened on a 5.5 acre site in the Haven Waterway Enterprise Zone.
'Unsettling'
Edwina Hart, who was economy minister at the time, said the plant marked "a new phase of growth that will create skilled jobs and support their plans to target new business opportunities and markets".
In March, the Welsh Government said the company had already created 22 jobs ahead of schedule and was expected to create up to another 100 over the next five years.
On Thursday, a Welsh Government spokesman said: "This is an unsettling time for the company, its employees and their families.
"We are keeping a close eye on this situation and are actively considering how we can support affected employees through Welsh Government programmes such as REACT should the company be wound up next week."
An HMRC spokesman said: "We don't comment on the tax affairs of individuals. We only initiate winding-up action where we believe this is the best way to protect both the interests of other taxpayers and creditors."