Swansea University campus evacuated after chemicals found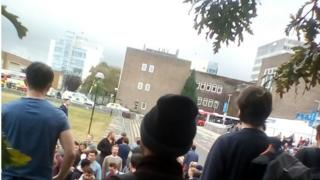 Part of a Swansea University campus was evacuated on Thursday after the discovery of "unstable" chemicals.
The university said the move at Singleton Park was "precautionary".
South Wales Police received a call at about 13:30 BST after concerns about the safe storage of chemicals before a controlled explosion took place.
Nobody was injured and a police spokesman said a cordon erected was precautionary while the chemicals were removed.
Student Alex Jones said there was "some panic" at the start of the incident and lectures were moved away from the area to other buildings.
South Wales Police said the incident was not treated as suspicious and there was no risk to the public.
The university said the controlled explosion was carried out by the Royal Logistics Corps bomb disposal unit after the chemicals "had become unstable".