Pembrokeshire seal photograph wins national recognition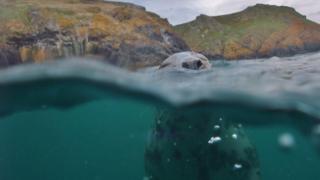 A scuba diver from Pembrokeshire has won national recognition for her photograph of a grey seal poking its nose out of the water.
The photograph was taken by Fran Hockley, 29, of Stackpole, when she was diving off the coast of Skomer Island.
It was highly commended in the British Sub-Aqua Club's (BSAC) nationwide Great British Diving photography competition.
Ms Hockley said it was a "really lucky shot" but she was "delighted" with the recognition.
"There were lots of mums with their pups playing around and I took a few shots, but it wasn't until I got home that I realised how well this one had come out," she said.
About 340 photographs were entered into the competition and more than 2,300 people voted for the best image.