Plans for 61 new council homes in Carmarthenshire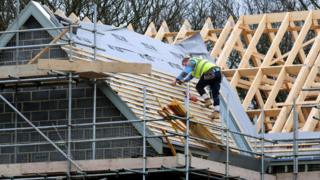 More than 60 new homes could soon be built in Carmarthenshire as part of an £8.5m investment to grow the council's housing stock.
They are planned for Llwynhendy, Pembrey, Llandybie and Llandovery.
Carmarthenshire became the first council in Wales to build new council homes since the 1980s when it developed 12 new homes in 2014.
It also became the first council to suspend its Right to Buy policy in order to protect its stock.
The council's executive board has agreed to move forward with phase one of the investment to grow the council housing stock over two years.
If approved by full council, building could be begin next March.
The council is also adding new homes to its stock at an average rate of one a week by buying suitable properties on the open market.
Almost 20 homes have been bought already this year at a cost of £1.7m.