Nant Pibwr 'clear of oil 'after kerosene pipeline leak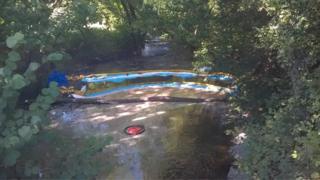 About 140,000 litres of oil which leaked from a pipeline into a Carmarthenshire river is believed to have been cleared up.
Kerosene leaked from the Valero-owned pipe into Nant Pibwr, near Nantycaws, at the start of October.
Valero said two booms have been removed from the river after being clear of oil for more than a week. Two others remain in place but are also clear of oil.
The A48 eastbound lanes near Carmarthen are due to reopen on 1 November.
The carriageway currently remains closed due to maintenance work on the pipeline, which carries aviation fuel and diesel from Pembroke's Valero refinery.
A Valero spokeswoman said the company was "continuing to work with Natural Resources Wales to monitor the environment to reduce the risk of any further impact".
"We continue to test in the surrounding area to ensure there is no migration of oil to other sites," she added.