New options for 'vulnerable' A487 Newgale coast road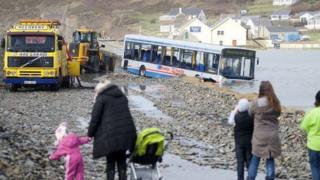 Public meetings are being held to discuss the future of a coastal road in Pembrokeshire.
Newgale's pebble bank is susceptible to breaches over the winter months, with flood water leaving the adjacent A487 impassable.
In February 2014, a bus became stranded, with 10 people having to be rescued.
Pembrokeshire council is now looking at a number of options for the road, including building a new one.
Other options are installing a sea defence structure or elevating the existing road, although this would have to be six metres (20ft) higher.
As they are likely to have an adverse effect on what is a popular beauty spot, people are being asked for their views.
Public meetings are being held at Solva Memorial Hall between 17:00 and 20:00 BST on Thursday and between 10:00 and 16:00 on Friday.
A Pembrokeshire council spokesman said: "The options are a result of an ongoing detailed analysis of the coastal processes that affect Newgale which is extremely vulnerable to flooding."
The study is due to be completed at the end of the year.
Over the past 20 years, Pembrokeshire council's management of the pebble bank has been to rebuild it every time part of it collapses.
But officers told a public meeting in February 2015 they could only do that for about 10 years before the bank becomes impossible to maintain.