A48 oil leak investigation after 100 fish killed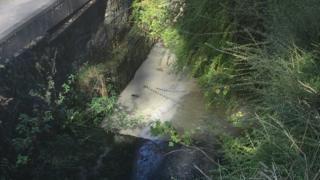 An investigation will probe why more than 140,000 litres of oil leaked into a river, killing about 100 fish.
Kerosene leaked from a pipeline owned by Valero into Nant Pibwr near Nantycaws, Carmarthenshire, last week.
The A48 is set to be closed in both directions from the area to Carmarthen from 19:00 BST on Friday until 06:00 Monday, for repair work.
Rural Affairs Secretary Lesley Griffiths said an investigation would probe the cause of the pipeline breach.
The Health and Safety Executive and Natural Resources Wales will conduct it.
In a letter to assembly members, she previously confirmed the scale of the spill had been bigger than previously thought.
Ms Griffiths also said on Tuesday the decision to close the road "had not been taken lightly" and completing the work over the weekend "should minimise the impact on the travelling public."
Traffic will be diverted through Nantycaws and Llangunnor.
In a statement, the Welsh Conservatives described the Welsh Government's response to the "mess" as "lethargic".
It said: "The oil spill, which has now resulted in the closure of both lanes of the A48, is a double blow to the people of west Wales, cutting off both of its most vital economic arteries."