Wuhan Ligong College in Swansea to bring Chinese students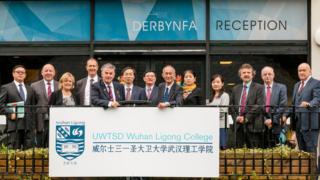 A college to help bring students from China to study in Wales is being established in Swansea.
The University of Wales Trinity St David is basing its UWTSD Wuhan Ligong College at the Mount Pleasant campus.
It comes as part of the university's commitment to its 10-year relationship with Wuhan University of Technology (WUT).
It is hoped it will help WUT establish a better presence in Wales so students can complete their degrees here.
Professor Xiaoyong Huang, Dean of the Wuhan Ligong College, said: "It is a huge honour to come to Wales and visit Swansea to celebrate the coming together of our two great institutions.
"We already feel at home here, as we have so many students in Swansea."