Garnant man jailed as dogs found in 'horrific' conditions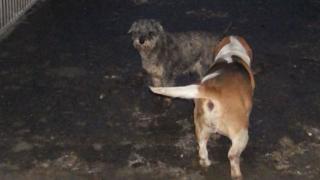 A man has been jailed for seven months for causing suffering to 34 dogs which were found in "horrific" conditions.
Andrews Thomas, 38, of Garnant, Carmarthenshire, pleaded guilty to animal welfare charges at Llanelli Magistrates' Court on Wednesday.
RSPCA officers found dogs covered in faeces and urine with no sign of food, water or bedding.
Thomas was banned from keeping animals for five years and was ordered to pay £865 in fines and costs.
RSPCA inspectors visited Thomas's farm on 6 March and found several breeds of dogs, including bichon frises, schnauzers, cocker spaniels, Jack Russells and pugs living in substandard conditions.
Thomas admitted causing unnecessary suffering, not providing a suitable environment for a large number of dogs kept at a farm, failing to treat health problems and failing to provide a number of sheep and pigs with a suitable environment.
Following the hearing, RSPCA inspector Gemma Cooper said: "The dogs were stinking because they were living in this horrific environment. There were puppies being born in faeces."
The charity removed 43 dogs but are now looking after 48 after five puppies were born - the animals have been given veterinary treatment and will be rehomed.