Sea Trust urges boat owners not to harass dolphins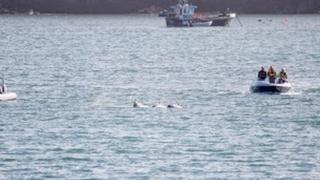 A marine conservation group is appealing for boat owners not to harass dolphins, following incidents in Pembrokeshire.
The Sea Trust filmed boats chasing dolphins around Fishguard harbour on two occasions last week.
In one case the dolphins were accompanied by a calf.
"We're sure this is due to ignorance of the law rather than a wilful intention to harass protected animals," said Sea Trust director Cliff Benson.
Mr Benson said it is natural for people to want to see dolphins close up, but they should not get any closer than 50m (164ft), especially in confined spaces such as estuaries and harbours.
He explained that a dolphin's main way of understanding its environment is formed by developing a "live acoustic map of its surroundings".
'Respect their space'
But if there are boats moving around them with engines running, "they can feel like they are being hunted," causing them to panic and "blindly flee in all directions", risking mothers being separated from their calves.
Mr Benson said: "Inevitably as one boat is attracted to dolphins it then attracts others...and soon there can be a small flotilla of boats vying for position as happened in Cornwall."
"No more than two boats should congregate around dolphins.
"Do not overstay your welcome, respect their space and their need to function without disturbance."
Mr Benson said people wanting to see dolphins should either go on a reputable wildlife tour, where the skipper will follow a code of conduct, or take part in a land-based watch.