'Red Dragon' Aston Martin auction could go for £1.6m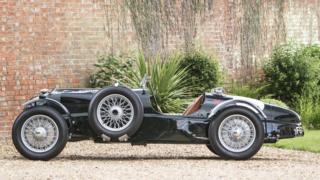 A 1936 Aston Martin which once belonged to Welsh racer Dudley Folland, who remodelled and placed a Welsh dragon on it, is to be auctioned for about £1.6m.
He bought the car after World War Two and adapted the bodywork to resemble a successful early Ferrari.
Carmarthenshire-born amateur racer Mr Folland made the change after losing to a Ferrari in a 12-hour race in Paris and a 24-hour event in Spa.
The auction for the Aston "Red Dragon" was due to place on Saturday.
John Polson, Bonhams motoring specialist, said: "Folland chose 'Red Dragon' because it was the most competitive British built car available in the early years after the war."