Swordfish washes up on Freshwater East beach, Pembrokeshire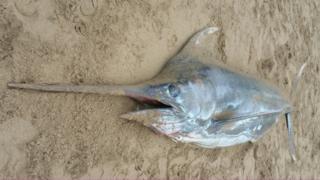 A swordfish has been found washed up on a Pembrokeshire beach.
John Swancott and his wife Helen came across the 8ft (2.4m)-long fish while walking their dog at Freshwater East on Saturday morning.
Mr Swancott, 53, from Lamphey, said: "It must be about 8ft long and weigh between 150 and 200lbs.
"I couldn't believe there was a swordfish in our waters, it was amazing."
Ieuan Williams, of Milford Haven Coastguard, said: "It's a bit strange, it's not something we usually get in our waters. I'm not sure how it ended up here."
He said it was still quite fresh so could not have been there long.
In 2008, a swordfish washed up on a beach at Barry, in the Vale of Glamorgan.
Experts said at the time it was only the third known recorded sighting of the fish in Wales.
Douglas Herdson, from the National Marine Aquarium in Plymouth, said the first sighting was off Newport in 1905 and in 2003 one was stranded at Rhossili on Gower.
Swordfish are more typically found in in tropical and temperate parts of the Atlantic, Pacific, and Indian Oceans.