BHS' last store in Wales closes in Swansea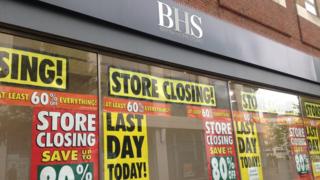 Shoppers have grabbed some last-minute bargains as the final BHS store in Wales closed on Sunday.
Hundreds of jobs in Wales, part of a total of 11,000 across the UK, were lost after the retailer went into administration in April.
BHS' Welsh stores in Carmarthen, Cardiff Bay, Newport, Wrexham and Llandudno have already shut, with Swansea the last to close.
Staff brought forward Christmas by dressing up for the final day.
Sharen Henry, who has worked at the Princess Way store for 14 years, said: "It has been like being part of a family and, although we'll play at having Christmas celebrations, there will be a final tear."
The store's manager Steve Britten, said it had been an emotional time for staff but 80% had found new jobs.
"We had to open early because the queue was absolutely huge and our poor customers were getting wet," he said.
"We've had a really difficult week but we've had an absolute ball of a time. We've dressed up every day and had party themes.
"The staff have had big smiles on their faces but I think tonight there's going to be a lot of emotion, when it hits us that it's all over for the last time."
He added: "Lots of retailers on the high street have been very helpful to us and managed to secure vacancies for our staff and the staff that work here... are going to be a credit to where they go to work."
On Friday, staff wore T-shirts bearing the slogan "No more green" which appeared to mock former BHS owner Sir Philip Green.
A report by MPs found Sir Philip extracted large sums from the business before leaving it on "life support" and his failure to resolve its £571m pension deficit was a major factor in its firm's demise.