Swansea's Oceana nightclub demolition completion date set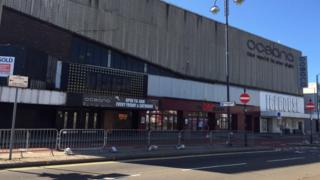 The demolition of a former nightclub which could be replaced by Swansea council's new headquarters, is due to finish by the end of the year.
Work to bring down the former Oceana building on Kingsway started in October 2015 and was due to take six months.
But the shell of the building is still standing as there was more asbestos than first thought.
The council bought the site as part of plans to transform Kingsway into a business district.
The authority is moving from its seafront location as part of a wider regeneration of the city centre which is due to start in 2017.