Burry Port Harbour site for sale to encourage regeneration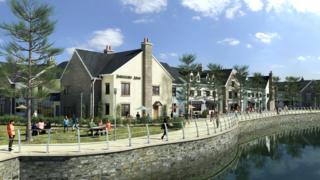 A harbour-side site has been offered for sale in Carmarthenshire to encourage regeneration in the area.
Llanelli Joint Venture, a partnership between the Welsh Government and Carmarthenshire council, is advertising 2.8 acres (1.1 hectares) of land at Burry Port Harbour.
It comes with planning consent for mixed-use developments.
They include two housing development sites, as well as opportunities for shops, a restaurant, pub and hotel.
Carmarthenshire council leader, Emlyn Dole, said the development would "create an exciting new waterfront area for the town".
"The project has an emphasis on design quality and sustainability which will set a standard for other future developments to meet", he said.