Milford Haven memorial service for father and son fishermen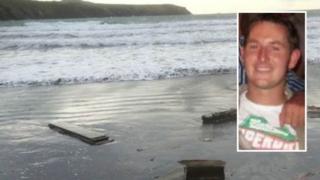 A memorial service is to be held to remember a father and son after their fishing boat sank off the Pembrokeshire coast.
Gareth Willington, 59, from Carew, died after his boat, The Harvester, sank off St David's Head in April.
The body of his son, Daniel, 32, has never been found despite a large-scale sea search.
The service will be held at the Fishermen's Tribute - a statue in Milford Haven - on 22 August.
The Willingtons' boat, which operated out of Milford Haven, smashed into rocks and broke up on 28 April.
The father was rescued and taken to hospital, but was pronounced dead.
Five lifeboats, a helicopter and local fishing boats were involved in the search for his son.
Milford Haven council said Father Harri Williams, of St Katharine and St Peters Church, would officiate at the service at the statue on the Rath at 11:00 BST.