Princes Gate denies Pembrokeshire harmful water abstraction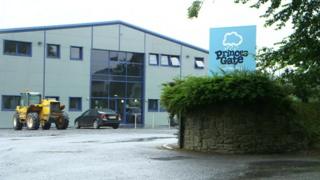 A Pembrokeshire-based water bottling company whose product is sold across the UK has denied claims it could be causing natural springs to dry up near its base.
Landowners and environmentalists have complained about Princes Gate Spring Water, near Narberth.
But the company said its extracting operations are not responsible.
Natural Resources Wales (NRW) said it was powerless to investigate until a new law comes into force.
In 2015, Princes Gate announced a major expansion which involved sinking new bore holes to increase production to a potential equivalent of one million bottles a day.
The natural spring water comes from an aquifer which supplies a network of streams, which many landowners, a local quarry and farmers also rely on.
Seven have contacted Natural Resources Wales complaining the water table has dropped in the last few years, with some springs run dry.
Malcolm MacPhee, who lives in Princes Gate, said: "What I think is going on here is industrial scale abstraction of water.
"All my friends and associates, farmers and anglers have complained they've got ground sinkage and loss of water."
He also raised concerns about fish not being able to travel upstream to spawn.
Mary Sinclair, chairman of the Pembrokeshire Branch of The Campaign for the Protection of Rural Wales, said: "We're not asking people to stop bottling and selling water or using water or extracting it in anyway whatsoever.
"We're asking that a proper look is taken at the environment and that the limits are set so that the environment is not drying out."
'Extreme care'
Princes Gate Spring Water denied its operations were responsible.
But Princes Gate's operations director, Endaf Edwards, said it was aware of the allegations its activities have had an adverse impact upon the local environment.
"Those allegations are strongly denied," he said.
"Princes Gate monitors with extreme care all water it abstracts and measures water quality, tables heights and flow into its factory to ensure that it meets the highest standard of corporate, social and environmental responsibility."
Like many parts of south west Wales, the site is exempt from licensing requirements for groundwater abstractions, but this is about to change with the introduction of new legislation.
Andrea Winterton, south west operations manager from NRW, said: "We are looking into these reports of streams drying up in the Ludchurch area and concerns that the water table has dropped.
"Currently we have no control over ground water abstractions in the Ludchurch area, which is exempt from licensing requirements, but our controls will be extended into this area later this year."
She added: "Any licence granted will need to satisfy us that it won't have an adverse effect on the environment."