Swansea's St Helen's cricket ground awarded blue plaque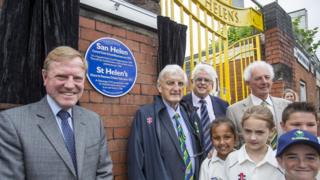 The Swansea cricket and rugby ground where Sir Garry Sobers hit six sixes in one over has been honoured with a blue plaque.
St Helen's rugby and cricket ground was granted the plaque by Swansea council to mark its contribution to the history of cricket.
Cricket legend Sir Garry completed the feat at the ground in 1968.
Swansea councillor Robert Francis-Davies said it was "thoroughly deserving of recognition".
The ground received a plaque in October 2015 for its contribution to rugby.