Argyle Medical Group ends afternoon appointments at two surgeries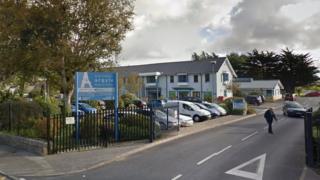 A medical group is to stop afternoon appointments at two of its Pembrokeshire surgeries.
The Argyle Medical Group has given notice to Hywel Dda University Health Board that its surgeries in Neyland and Pembroke will be closed in the afternoons from 8 August.
It said the decision was down to staff shortages.
The health board said "patients with a clinical need still have access to care."
'Severe constraints'
The medical group runs Argyle Street Surgery in Pembroke Dock, St Oswald's Surgery in Pembroke and St Clement's Surgery in Neyland.
Writing on its Facebook page, it said: "We will continue to provide morning surgeries at St Clement's and St Oswald's but all afternoon surgeries will be at the Argyle Street Surgery only.
"This is due to workforce shortages."
It added: "We acknowledge that this may be inconvenient for some patients, but our primary objective is to continue to provide a safe service within the severe constraints we are facing."
'Disgrace'
Responding to the Facebook post, patients described the move as a "disgrace" and an "absolute joke".
Hywel Dda University Health Board said it was aware of the change in opening hours and wished to "make clear that patients with a clinical need still have access to care."
Jill Paterson, the health board's interim director of commissioning, therapies and health science, said: "While the surgeries are experiencing particular pressure at this time, we would like to remind people of the Choose Well guidance, which can help to support individuals in choosing the most appropriate health care service to meet their need:"