Welsh WWI conscientious objectors listed in database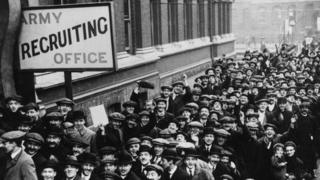 It took undoubted bravery to fight in World War One, however a research project is now shedding new light on the courage it also required not to fight.
As part of the Heritage Lottery-funded Wales For Peace project, academics have produced a database of about 900 Welsh conscientious objectors, as well as new details on the reasons they would not take up arms.
The online resource for Wales - part of the wider UK Pearce Register of conscientious objectors - is being launched at the National Eisteddfod in Abergavenny.
Upon the introduction of conscription in 1916, 16,000 men across Britain refused to serve in combat roles on grounds of personal, political or religious conscience.
Most agreed to work as stretcher-bearers or labourers at the front, or otherwise undertake tasks deemed vital to the war effort at home, such as farming or mining.
However, for a small minority their opposition to the war was so implacable their consciences would not allow them to perform any task which could conceivably have been seen as supporting or furthering the conflict.
As academic Aled Eirug - who is completing a PHD into Welsh conscientious objection - explained, for these men the war could be every bit as tough as it was for those at the front.
"I think there was some willingness by the government to compromise - especially on grounds of religion - but only with those conscientious objectors who were willing to co-operate with alternative, non-combat service.
"For the absolutists, who refused to have any part of the war whatsoever, David Lloyd George had stated that he would make it a very tough war indeed.
"They were repeatedly imprisoned - because as soon as they'd served one sentence they'd be immediately called up again - and some died from the conditions in which they were held.
'Intimidation and ridicule'
"Of those who survived, they'd face intimidation and ridicule back home, and there were even attempts to deny them the vote."
Mr Eirug was moved to research the topic as his own grandfather and father were conscientious objectors, in World War One and World War Two respectively.
It soon became clear there were many different factors motivating conscientious objection in Wales.
Traditionally Welsh nonconformist beliefs have been cited as the primary motivation, with theologians at Bala-Bangor College heading a vocal opposition to conscription.
But Mr Eirug believes this was not the whole story.
"Whilst it's true to say Welsh nonconformists played a leading role, there were many other religious groups involved: Quakers, Jehovah's Witnesses and Christadelphians to name just a few.
"For others, their objection was political rather than religious. In south Wales where the Independent Labour Party was gaining traction, many socialists felt that they couldn't take part in a capitalist war between two imperial powers.
"There was also a sense that the British Army didn't represent Welsh people; something which Lloyd George was at pains to address in his recruitment speeches."
'A timely reminder'
Much of Mr Eirug's research has been made possible by Cyril Pearce, a retired senior lecturer and honorary research fellow at the University of Leeds.
He has spent his career recreating the Pearce Register of UK conscientious objectors, as the original tribunal records were destroyed after World War One on government orders.
Using newspaper cuttings, diaries, letters and personal recollections, the Wales For Peace team have now collated the Welsh entries into a database.
It enables users to search names, beliefs and motivations for objecting, some family details, and to search groups of conscientious objectors from specific towns or counties.
The database will be officially launched at 13:00 BST in the Eisteddfod's Peace Tent, and will go live online from 1 September - in time for use by schools and colleges in the new academic year.
Mr Eirug added: "The register serves as a catalyst for further in-depth research into the lives of individual objectors across Wales, and serves as a timely reminder that carrying a gun was not the only way to become a hero."