Cymmer Ty-Nant Cat Sanctuary burglary: Man in court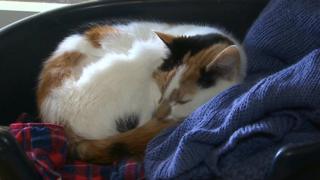 An 18-year-old has appeared in court in connection with a burglary at a cat sanctuary in Neath Port Talbot.
Three cats from Ty-Nant sanctuary in Cymmer were found dead while another three were later found unharmed after a break-in on Saturday.
Frank Lewis appeared at Swansea Magistrates' Court charged with two counts of burglary and causing suffering to a protected animal.
He was released on bail until 2 September.
A 15-year-old was also charged and will appear at Swansea Youth Court on 11 August.
Three dead cats were found mutilated following the break-in.
A post on the sanctuary's Facebook page said three cats were found in a cage in a ditch on Sunday and had been safely returned to the centre. Five are still missing.
Ty-Nant said it was still looking for a tortoiseshell and white cat, three black and whites and one large tabby male.
A fundraising website set up for the sanctuary has raised more than £11,000 since Saturday.
A sanctuary volunteer posted on the centre's Facebook page saying: "The injuries they had sustained has left all of us heartbroken and angry.
"There are still cats that are unaccounted for and we hope that they will somehow be found and returned safely."