Four teams banned after Beach Rugby Wales brawls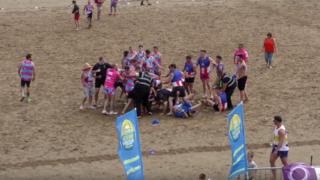 The organiser of a rugby beach festival said four clubs have been banned following fighting which broke out during two of its matches.
Both matches at the 11th Beach Rugby Wales were abandoned and the teams were disqualified after on-site security and police stepped in to break up the brawls, but no arrests were made.
Ferndale and Rhigos, and Porth and Wattstown were the teams involved.
Video footage has emerged of the trouble on Swansea Bay beach.
"I've told the teams that kind of behaviour is not tolerated at Beach Rugby Wales," said organiser Ashleigh Walters.
"We excluded the teams immediately and the teams won't be invited back for the foreseeable future."
But he added: "Over 70 games took place and only two matches had the fracas.
"Both matches were local derbies with teams a mile away from each other.
"As soon as the referees abandoned the matches, the players shook hands with each other."