Michael Cura, 16, dies on school cycle trip in Spain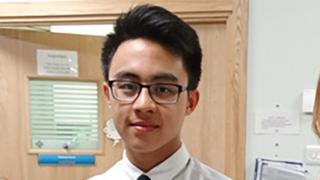 A teenager from Swansea has died while on a 560-mile school cycle trip through Spain.
Michael Cura, 16, of Bishop Vaughan Catholic School, died on Thursday while making a pilgrimage to Santiago de Compostela in the Galicia region.
The trail has been a religious route for pilgrims for more 1,000 years. Medical reasons are understood to be the cause of his death.
The school said staff and pupils were "devastated by the sudden death".
A Foreign Office spokesman said: "We are providing support to the family of a British national following their sad death in Spain."
School sources said Michael's death was not the result of an accident and no other pupils were involved.
Staff tried to help him, but by the time the emergency helicopter arrived he had died.
Michael's family has flown out to Spain and Swansea council said the school had arranged for the remaining pupils and staff to return home on Saturday.
Michael, of Morriston, who was an altar boy at Sacred Heart Roman Catholic Church, had been on the Camino de Santiago - also known as Way of St James and St James's Path - on the pilgrim route to the Catholic shrine.
He and 20 other pupils and eight staff were nine days into the cycling journey near the end of their trip when he died.
Paying tribute to Michael, parish priest Father Jason Jones said: "The parish community of the Sacred Heart at Morriston are deeply saddened and shocked by the sudden death of Michael.
"The family and friends of Michael attended a special mass this morning before jetting off from Heathrow.
"He was a fun-loving, caring and committed altar boy and a helper for the disabled youth.
"A caring, greatly loved and popular young man who will be very missed.
"It is a very emotional time for the family and for the whole community."
About 80 people also attended an evening mass, including members of the Filipino community and pupils from Michael's school.
Father Jones added: "It was a very moving mass and we were able to pray for Michael especially, and to help his family over the next few days."