Honorary degree for 'national treasure' Max Boyce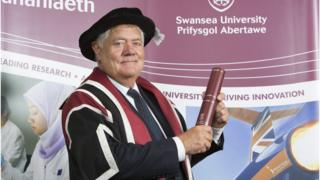 One of Wales' best loved entertainers has received an honorary master's degree from Swansea University.
Comedian and singer Max Boyce was presented with the honorary Master of Arts at a graduation ceremony on Monday by Ruth Madoc.
Born in Glynneath, Neath Port Talbot, his songs and stories have become part of Welsh folk culture.
Mr Boyce said he was "genuinely thrilled" to hear he was to receive the honorary degree.
"I have always believed that a man's true worth can only be measured by how he is perceived by those who live in his own square mile... so I consider it a great honour to be thought worthy of this award by Swansea University which is a short distance from my hometown," he said.
In September 2013, the BBC celebrated Mr Boyce's 70th Birthday with a TV special, which attracted the largest TV ratings on BBC Wales that year.
In 2014, he fell ill and underwent a quadruple heart bypass but made a speedy recovery and was soon back on stage.
Presenting his honorary award, Ms Madoc said: "The term national treasure is overused in today's celebrity-obsessed climate but in the case of dear Max, the phrase encapsulates the man and his massive contribution to the universal image of Wales."
Swansea University will also be awarding honours this week to:
Alan Curtis
Dr Suzannah Lishman
Jason Mohammad
Lord John Browne of Madingley
Alan Cox
Professor Laura McAllister
Datuk Seri Jebasingam Issace John
Martin Coles
Elin Rhys