Burry Port teacher struck off after relationship with 16-year-old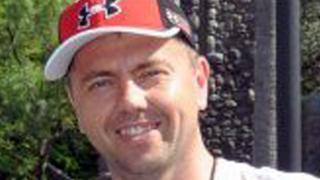 A Carmarthenshire teacher has been struck off for having sex with a 16-year-old girl.
Married Phillip Rudd, 42, taught maths at Ysgol Glan y Mor in Burry Port for 11 years.
He admitted sharing personal and inappropriate emails with the girl but denied buying her gifts and engaging in sexual behaviour.
A disciplinary hearing in Cardiff proved the allegations and struck him off indefinitely.
The Education and Workforce Council heard Rudd first taught the girl when she was 10-years-old and began messaging her after she had left to go to college.
Presenting officer Melinka Berridge said he had "groomed the girl for his sexual gratification" through flattery and gifts.
'I truly love you'
The pair were said to have been in a sexual relationship between September 2013 and January 2014, when the girl was 16 and Rudd 39.
The girl said: "He told me he no longer loved his wife and wanted a divorce and to be with me."
The hearing was read an email Rudd sent to the girl when he realised she did not want contact any more.
It said: "These last few months have been great for me and I'm sure you too.
"I truly love you and I wish I was either single or I'd met you 20 years ago."
Miss Berridge said the girl had told her parents what had happened.
'Distressed and embarrassed'
"There is not a snowball in hell's chance she would have admitted events of a sexual nature if they were not true," she said.
"She is clearly upset, distressed and embarrassed and feels shame."
The committee chair, Jacquie Turnbull found Rudd's conduct was "sexually motivated" and that he "did have sexual intercourse with her."
"He was guilty of unacceptable professional conduct and his behaviour fell short of the standard required," she added.